Nationwide Support and Decommissioning
PNC Bank, a member of The PNC Financial Services Group, Inc. (NYSE: PNC), is one of the largest diversified financial services institutions in the United States. In 2021, PNC completed the acquisition of BBVA USA, establishing a foothold in the western U.S. while accelerating its national expansion. In doing so, PNC absorbed BBVA's twelve branches, including its Irvine, Calif. headquarters.
Strategic Approach to Decommissioning
To help the facilities transition to the new corporate identity, Unisource Solutions was assigned the task of upgrading the outdated locations and strategically redesigning each space to align with PNC's business objectives, in order to support the facilities in their transition towards the new corporate identity. Our focus was maintaining their brand standards throughout the nation while repurposing office furniture and streamlining operations.
Our responsibilities also entailed maximizing their assets and reutilizing soft and hard seating throughout each location. Depending on the locale, we disassembled furniture pieces, took inventory, developed a space plan to align with the reconfigured or reduced space, and sourced supplemental furniture items. We also oversaw logistics, inventory, transport, warehousing, and reinstallation of pieces.
Successful Project Management is in the Details
To date, we've decommissioned four branches in Arizona, three in San Diego, three in Los Angeles County, and their Irvine headquarters. We outfitted nearly 80 private offices, 16 conference rooms, and installed over 300 workstations of varying sizes and styles. While some of the office spaces were new, the majority of locations required us to reimagine the space to accommodate a hybrid working model where not everyone is in the office at the same time. We adeptly navigated reduced square footage with efficient layouts and well-placed workstations that balance privacy with collaboration, ensuring a comfortable work environment for all staff.
To ensure the timely delivery of office furniture and an on-time move-in date, we developed a detail-oriented schedule, which involved multiple teams and naming key point persons. By delegating tasks, organizing pieces by location, and keeping an accurate inventory log, we were able to deploy each office effectively and efficiently.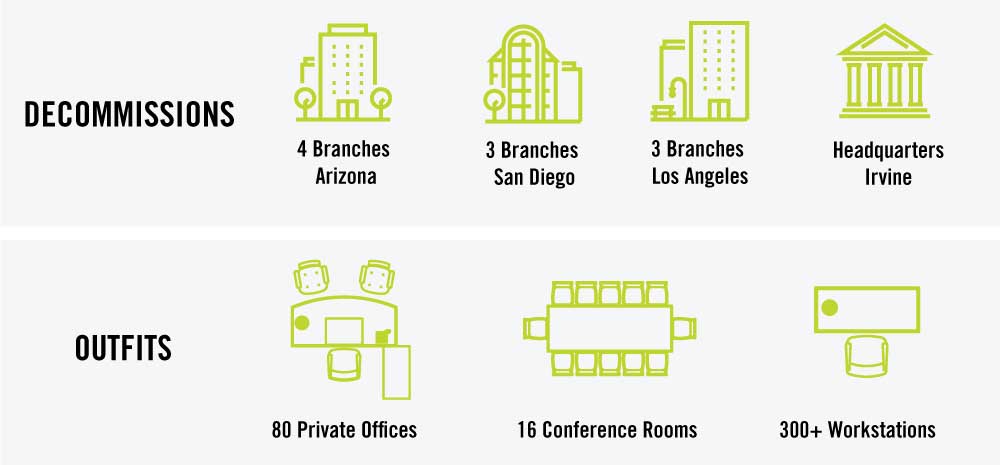 Work in Progress and Looking Forward
As of Spring 2023, we are planning the decommissioning of eight additional branches in Northern California, as well as revamping their corporate headquarters located in Irvine, California. Similar to the Irvine HQ, we are fitting out Corporate with Haworth Compose and Masters Series, which will be aligned with the PNC brand standards for a cohesive look and feel. To lend an air of prestige, we are remodeling half of the suite, bringing it up to modern standards.
Thanks to our hardworking, trusted team of experts, we are able to provide ongoing, support for PNC Bank, helping them seamlessly execute their acquisition and succinctly communicate their brand on a national level.