FDH Aero Consolidates Two Facilities into One
Unisource partnered with FDH Aero, a leading aerospace component manufacturer, to consolidate their two facilities into one streamlined office space in Commerce, California. The goal of this project was to enable FDH Aero employees to quickly meet customer needs by simplifying procurement and empowering the business operations of its customers with easy access to the expanded product offering.
Overview
The design focus was to provide FDH Aero's new 14,000 sq. ft. office space with a rightsized furniture footprint. Before the consolidation, employees were scattered throughout their old office space, resulting in too much downtime going from one department to the next. The new office space provides closer proximity to all departments, creating a cohesive workspace environment for teams to ideate, collaborate and share business insights to manage their orders, after-sales services, customer relations, training services, and customer-facing needs across the entire company.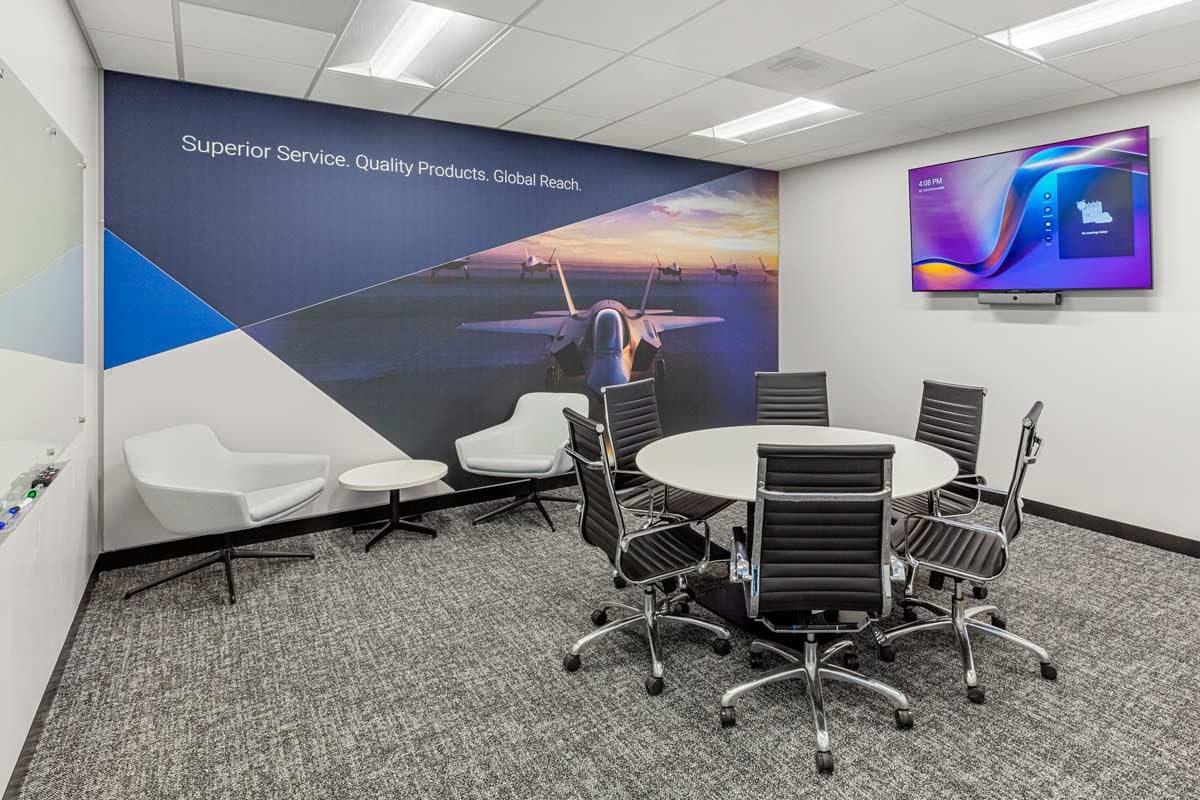 Scope
The project, located in Commerce, CA, involved the consolidation of two facilities into one 14,000-square-foot space. The new facility was designed to accommodate the needs of FDH Aero's employees and customers, with a focus on providing easy access to the expanded product offerings and simplifying procurement processes.

Solution
Unisource Solutions worked closely with FDH Aero to determine the necessary furniture solutions that would support their business objectives while optimizing the available space. The new office features 53 open-area benching workstations on the first floor, 37 open-area benching workstations on the second floor, six pieces of private office furniture on the first floor, and 13 private office furniture on the second floor. The project also includes two conference rooms, two respite rooms, 115 task seating, an employee break room, and reception desk and lobby seating.
One of the special features of the new office space is the open area benching workstations that are designed to promote collaboration and facilitate communication between employees. The new furniture layout helps to reduce the distance between employees, promoting greater efficiency, and a more cohesive work environment

Project Timeline
The project was completed in January 2023 and executed in several phases, including:
Planning and Design:

The Unisource Solutions team worked closely with FDH Aero to understand their business needs and design a space that would accommodate their growth and future requirements. The team also provided 3D renderings and sample furniture for FDH Aero's review.

Decommissioning and Relocation:

Unisource Solutions coordinated the decommissioning of the old facility, including the removal and disposal of furniture, equipment, and supplies. The team then managed the relocation of employees and equipment to the new facility, ensuring minimal downtime and disruption to operations.

Installation and Setup:

Once the new facility was ready, Unisource Solutions installed and set up the furniture and equipment according to the approved plan. The team also provided training to FDH Aero's employees on how to use the new furniture and equipment.

Post-Installation Support:

Unisource Solutions provided post-installation support to FDH Aero to address any issues or concerns that arose after the project was completed.
Results
The project was completed in January 2023 and has enabled FDH Aero to achieve its goals of consolidation and rightsizing. With a new streamlined office space, FDH Aero's employees are better equipped to meet the needs of their customers and provide them with the highest level of service possible. Unisource Solutions is proud to have partnered with FDH Aero on this project and looks forward to supporting its future growth and success.
"I am thrilled to share my experience with the furniture project completed by Unisource Solutions. From start to finish, the project went great and exceeded my expectations.
The team at Unisource Solutions was incredibly professional and attentive to my needs. They took their time to understand my vision for the new space we were moving into and provided expert guidance on the best furniture options to achieve it. They were also very responsive to my questions and concerns throughout the process.
The installation of the furniture was seamless and efficient. The team worked quickly and diligently to ensure that everything was set up perfectly. The end result was a beautiful and functional space that exceeded my expectations.
I am so grateful to Unisource Solutions for their exceptional service and expertise. I would highly recommend them to anyone looking for high-quality office furniture and outstanding customer service. Thank you for making my project a success!"
Erin Waidelich | Vice President, OEM Sales, FDH Aero
FDH Aero's employees are now working in a modern, comfortable space that is designed to accommodate their needs and support their productivity. The new facility includes a break room and respite rooms for employees to take breaks and recharge, as well as conference rooms for meetings and collaboration.
---
Let's Get Started