Team Approach Creates a Sense of Culture in Post-Pandemic Workplace
When a nationally-recognized confidential client approached the design of their new Southern California location — a 110,000 sq. ft., four-story, core, and shell building — they stuck to what they know best. Taking a team approach. In addition to leaning on the project team to transform their workplace into a dynamic, collaborative environment, they also sought employee input. Hearing from many voices was key to creating a strong sense of company culture.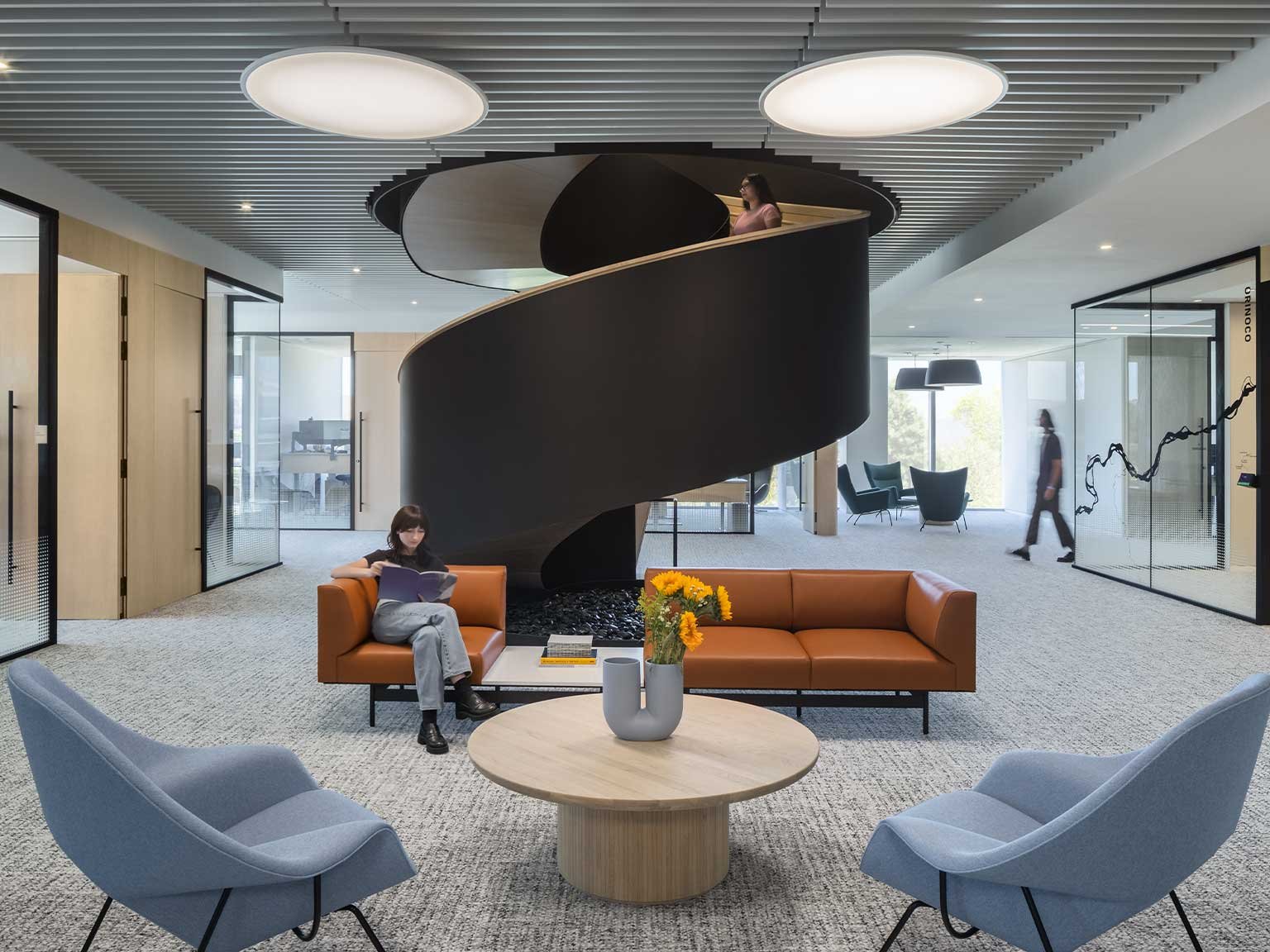 Prioritizing Company Culture and Collaboration
To transform the "developer box" into an interconnected, light-filled office full of sophisticated elements and personal touches apropos of the firm's service offering, architecture firm Behnisch Architeken Los Angeles carved out two multi-level atriums on both sides of the central elevator lobby, cut out two-story lounges at opposite ends, and inserted sculptural, spiralling staircase in each. Emphasizing collaboration, social spaces dot the main spine whereas private offices perimeter the windowed exteriors, offering employees discretion and access to natural light. On the ground floor, amenities abound. A rock climbing wall, fitness center, and gaming area pave the way to the indoor/outdoor dining hall. And to create a unique sense of culture while elevating the architectural integrity of the space, they tapped Platform by Unisource Solutions to oversee the furniture collection.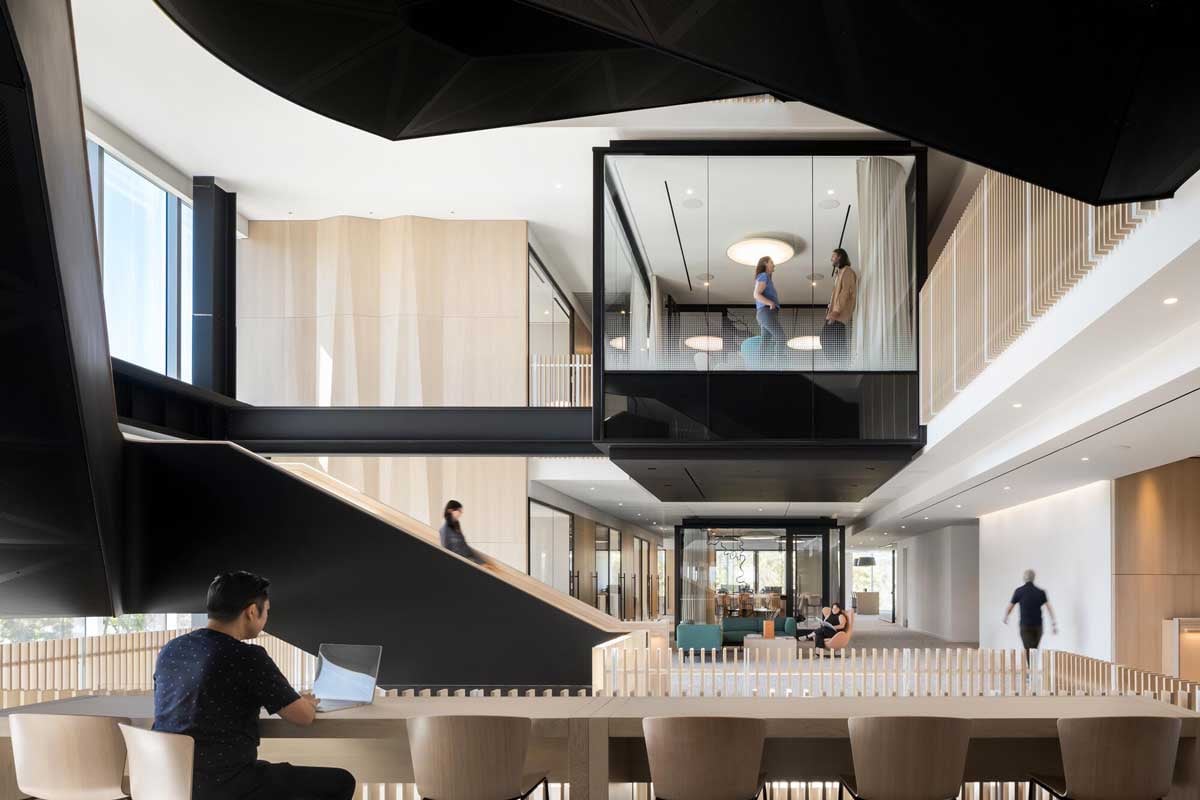 Custom Furnished Private Offices
One of the most significant portions of this project was the 180 private offices we designed and manufactured custom furniture for. This included 120 installed, in addition to 60 surplus that have been stored for future use.
To accommodate the staff's individual work styles, we designed and built over 1,000 custom pieces of furniture, with employees choosing the type of task chair, side chair, and credenza configuration they wanted. Credenzas were further customized by interchanging the type of storage in each unit — employees could choose between adjustable shelves, two-drawer storage, or a file drawer.
To create a highly-functional workstation that could accommodate up to six monitors, we worked with HAT Collective on designing a single-piece, L-shaped, height-adjustable desk with solid wood knife edges and specially ordered seamless veneer. Dedicated to quality craftsmanship, we tested six different bases in multiple configurations before we landed on a zero-wobble solution guaranteed to support more than 350 lbs based on distributed weight over multiple bases. For the desktop, because veneer finishes are heavily textured, we had to change our finishing process. This involved testing varying degrees of finish and filler material to achieve a smooth surface that could be written upon directly.
Aesthetics were also of utmost importance. To match the millwork and overall color scheme, the team selected predominantly white oak and matte black finishes for the private offices, which were extended to the parsons, coffee, and conference tables, as well as executive add-ons. All the case goods were made with a whitewashed, rift-cut oak veneer and black traceless laminate.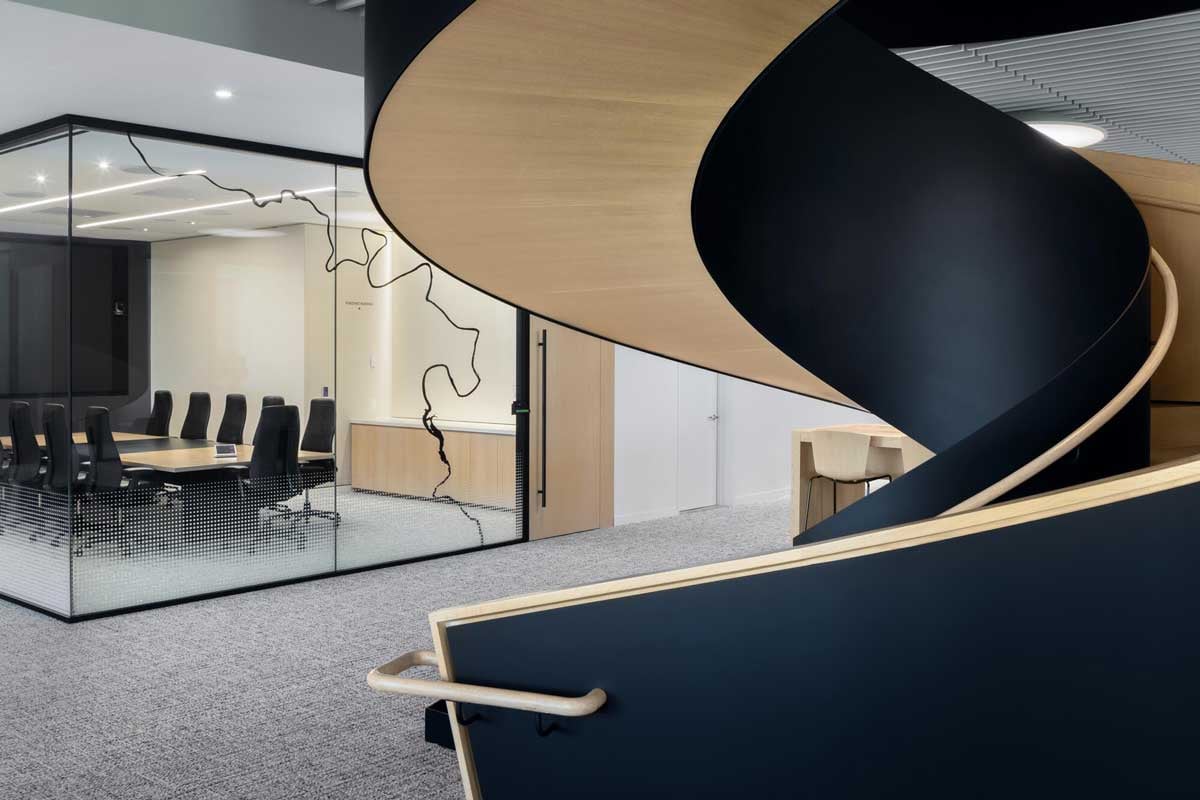 Ensuring Success
To ensure the client's needs and schedules were met, we launched a robust communications plan, involving the entire Platform team, where we mapped out logistics, oversaw quality assurance at the manufacturing facility, and stayed on top of production and timeframes. We worked alongside contractors and crews, and even with a complex design process, compounded by Covid-19 and supply chain issues, we were able to deliver a best-in-class product that complements the architectural design.
In total, we furnished 180 offices with leather cushioned credenzas, pedestals and trash cans, and designed 9 leather L-shaped sectionals, 13 conference tables, 8 coffee tables, 26 parsons tables, 1 reception desk, and 6 gym benches.
This innovative and eye-catching office was featured in Interior Design magazine as a shining example of a post-pandemic workplace centered on collaboration and wellness.
By focusing on employees, communicating client values, and sticking with a well-defined architectural design concept, the team successfully turned a blank canvas into an inspiring people-centric workplace. Now, when you walk into the building or through an office door, you can immediately sense the culture and feel the staff's pride.
---
Let's Get Started
Like what you see? Contact us to learn more.