United States' Largest Airport Police Department Consolidated Under One Roof
Design Optimizes Operations and Supports Multiple Work Styles
In 2021, Los Angeles World Airports (LAWA) unveiled their new state-of-the-art Airport Police Facility. Serving the nation's largest police agency dedicated to maintaining safe and secure airport activities, the 160,000-square foot building is part of LAWA's larger redevelopment plan that aims to reflect best practices in urban, community, and sustainable design.
Located in Westchester, California, on the northside of the airport, the purpose-built headquarters consolidates operations from eight separate locations under one roof. Designed by Skidmore, Owings & Merrill in partnership with contractors Hensel Phelps, the new workplace incorporates a hybrid floor plan model that marries community gathering areas with high-functioning workspaces. The design team tapped Unisource Solutions to outfit the interiors with sleek, modern office furniture using uplifting materials that adhered to CalGreen Tier 1 standards and LEED Silver certification requirements, which the building is on track to receive.
Imagined as a contemporary hub of activity, the facility houses the Los Angeles Airport Police Division's Office of Operations, Office of Support Services, Office of Homeland Security and Intelligence, Emergency Service Unit, Traffic and Security Group, Bomb Disposal Unit, K-9 Unit, a practice range, and multi-purpose rooms. In addition, a landscaped walkway connects the building to its surroundings.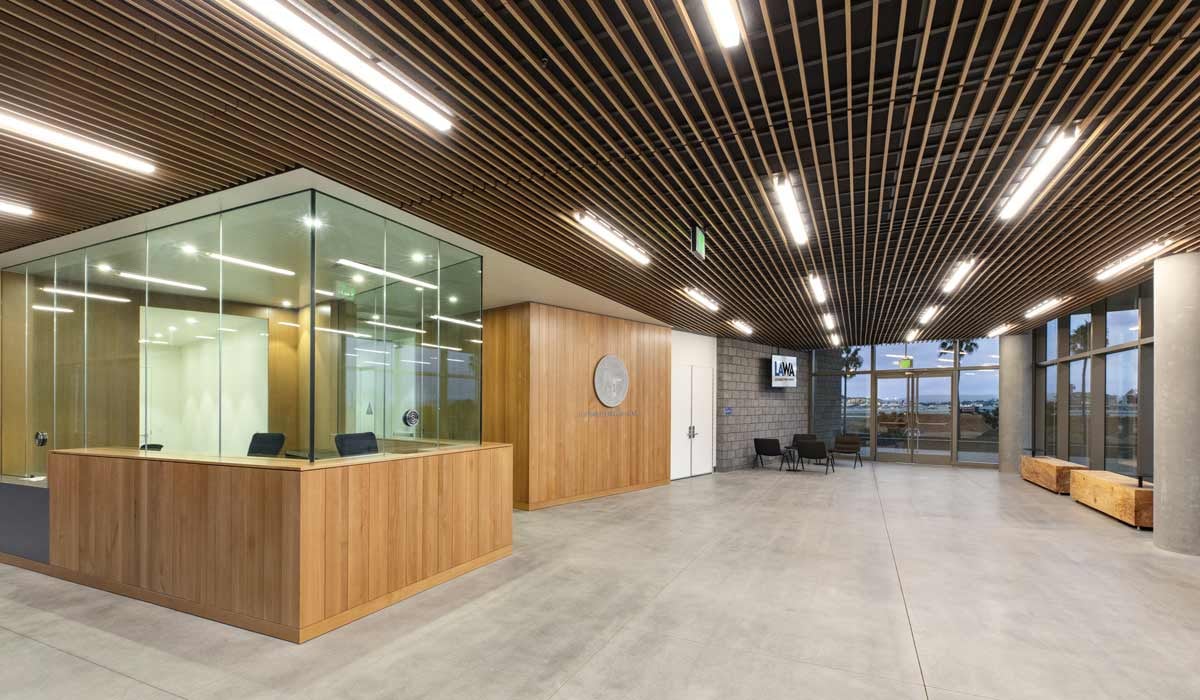 Traditional and Flex Spaces
In order to cater to the many functions of the LAXPD in an effective yet friendly way, the concept mimics the hierarchical organizational structure, which is underscored by the seating plans and furnishings. At the public entrance, guests and staff are welcomed to a spacious, sunlit lobby. Benches, custom-made from felled trees, perimeter the windowed facade. Through our in-house furniture division, Platform, we further customized the bench design by retrofitting steel laptop tables to provide a touch-down station for anyone who visits.
Behind reception, spread across 3 levels, the floor plan is a mix of private offices, traditional-style cubicles, benching stations, and open lounge areas. There is also a firing range across from the main building. To create a cohesive look throughout, we specified bright, white work surfaces and black, ergonomic office chairs on castors.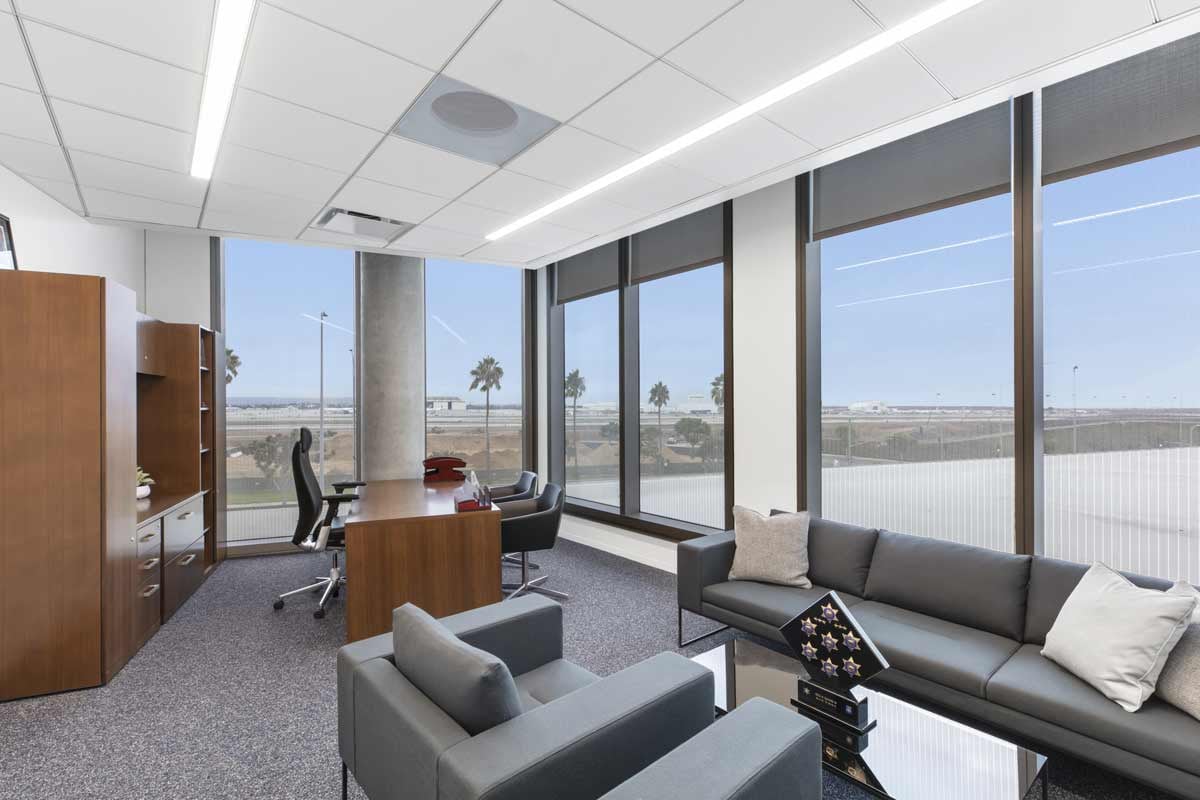 Each of the private offices features the Haworth Master Series, a furniture system line complete with custom office desks and storage.
To maximize square footage and privacy, a cubicle arrangement is at the center of each floor. For rank and file staff, we enclosed the workstations with high panels and carried the modern, crisp color palette to the office furniture. Open workstations offer additional seating with each design area outfitted with a slender lamp. In the conference rooms, the aesthetic is furthered. White tables are contrasted with black chairs, offering a comfortable place for group interaction and team meetings.
On the top level, at the chief suite, the work surface color palette and seating arrangement is repeated. To differentiate the executive level suite, instead of metal frame and fabric walls, the cubicles have wood-paneled partitions as dividers and carpeted insets. Reception mimics the warmer style, setting the tone. For the chief's office, we specified the Haworth Master Series in a walnut-colored wood finish, complete with a modern seating arrangement. The chief conference roof also boasts wood finishes — the grand wood table and console are contrasted with dark executive chairs.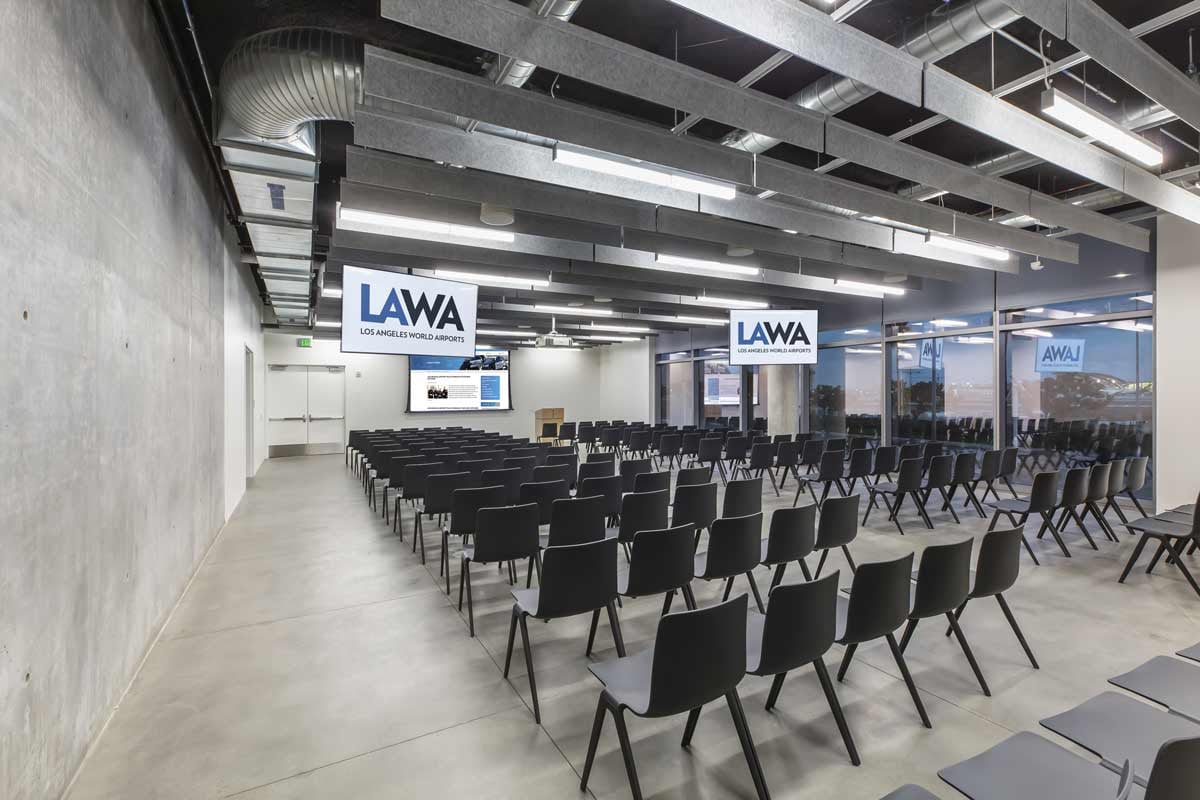 Auxiliary Spaces
To accommodate large gatherings and team meetings, we outfitted the briefing rooms — auditorium-style areas in which the chief gives assignments — with rows of black mesh-backed chairs and a podium. For the training rooms, rows of white catering-style tables are punctuated with black chairs. And throughout the building, there are stylish yet reserved lounge areas for impromptu gatherings and socialization.
With an eye on human comfort and wellness, the lunchroom is a large, open floor plan dotted with various-sized tables and chairs, as well as sofas with cabana walls. So whether the staff wants to eat alone, convene in large groups, or hunker down in a cozy booth, they have options to fit their needs.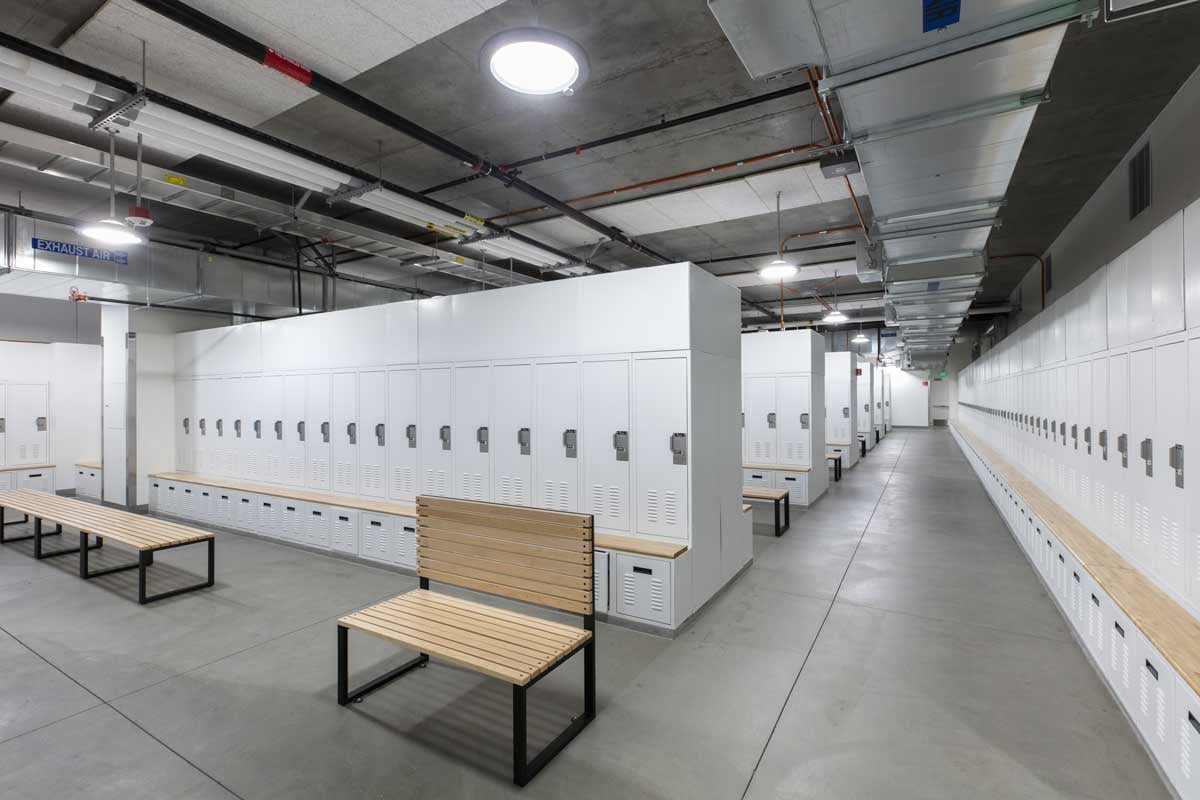 In the locker room, we custom designed the benches using maple wood slats and black powdered-coated steel frames. The design team gave us inspirational images which we translated into built reality. We even designed an ADA-compliant bench to match!
Throughout, "police department blue" is weaved in the decor. Accent walls and signage soften the white and grey interiors and help brand the space.
In total, we furnished 104 private offices, over 350 cubicles, five briefing rooms, ten training rooms, two large conference rooms, and several smaller ones, as well as four lounge areas, the lunchroom, and the locker room. Designed with intention, the furnishings create a dynamic atmosphere that promotes productivity and collaboration.
Meeting Deadlines
As with many design projects, we faced challenges. Early on, we had to download both architecture firms, separately, on the furniture order, and oversee change order requests. When it came to installation, while the construction schedule was delayed, the opening date did not change. Initially, we planned to install once everything was completed but ended up delivering in the middle of construction to ensure that all the furniture was in place by move-in. To choreograph, we worked around the various project team's timelines and got clever with our installation methods. We boom-lifted items to the second floor via windows, and plastic-wrapped furniture that was delivered in an active construction zone. Focused on meeting our target deadline, we maneuvered delivery with skill and executed a robust communications plan.
---
Let's Get Started