Google Expands in Los Angeles with Dramatic Transformation of Iconic Spruce Goose Building
Google, Inc. expanded their Los Angeles footprint. Late last year, the American multinational technology company unveiled their new office in Playa Vista, Calif. Located in the iconic Spruce Goose hangar, the building features open workspaces spread over 450,000 square feet. In 1943, the historic building was commissioned by businessman and aviator Howard Hughes to build his wooden airplane, dubbed the Spruce Goose.
Google tapped Portland, Orgeon-based ZGF Architects to lead the adaptive reuse project. They challenged the architects to transform the cavernous space into a light-filled, dynamic open office.
Design Celebrates Building's Heritage, Encourages Interaction
In order to celebrate the building's heritage, ZGF embarked on an extensive restoration of the wood frame. Preserving the building's architectural integrity, they erected a four-story "building-within-a building". To maximize a sense of openness and daylight, Google restored the original windows and enlarged the skylights. To create movement, they zig-zagged the split-level floors along a diagonal plane. And to provide unobstructed views, the team elevated walkways and created rhythmic seating patterns.
Additionally, to encourage worker mobility, broad boardwalks and balconied bridges connect the levels. With an eye towards impromptu meetings, social areas are peppered throughout the workspace. The vast building also contains an array of offices, workstations, meeting rooms, food service, event spaces, and amenity areas.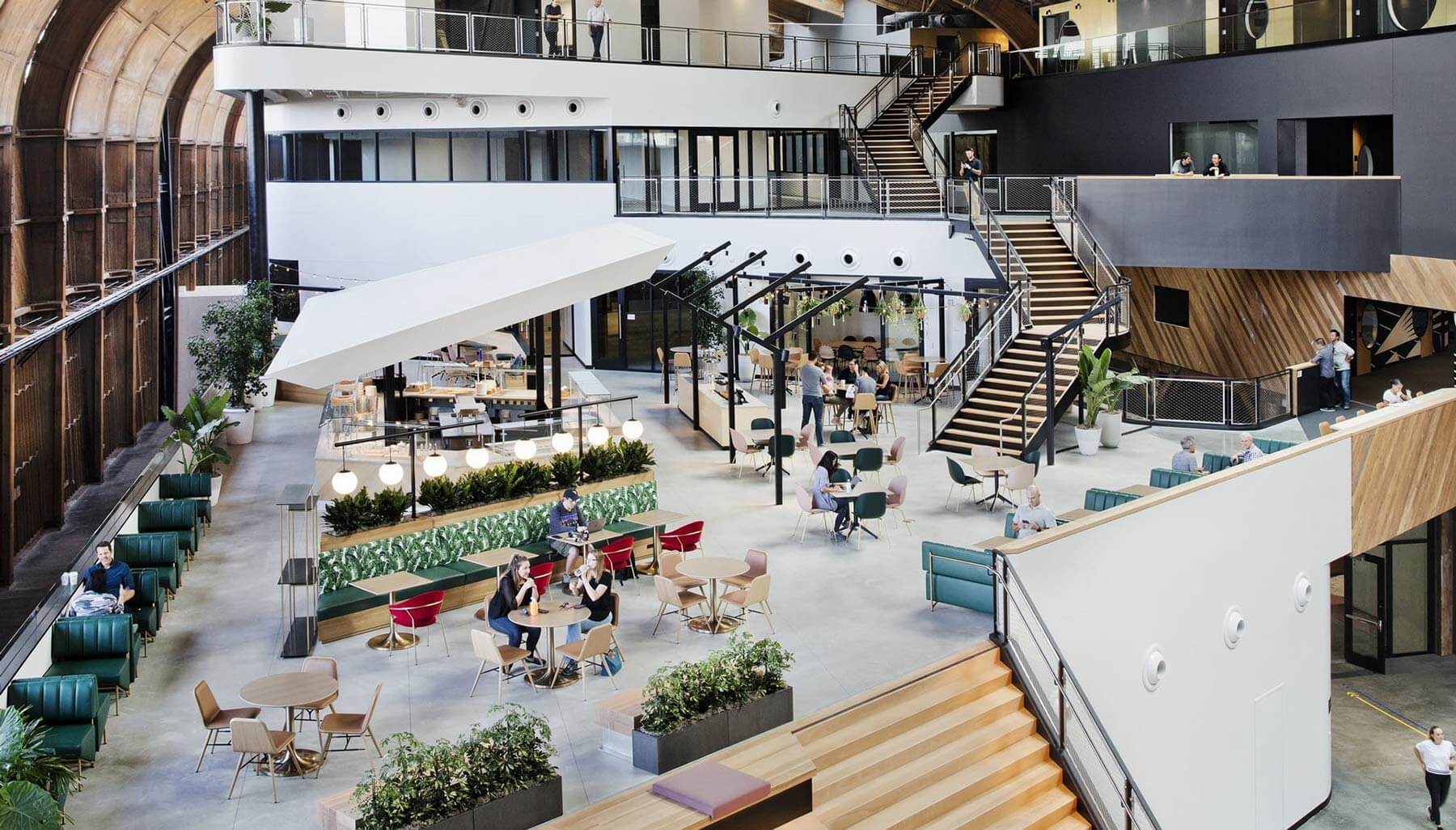 Furniture Program Compliments Company Culture
To further embrace Google's open-conversation approach and versatile style, we worked with ZGF to execute their furniture program. We curated furnishings and materials from numerous sources to tell a narrative about Google's collaborative culture. Additionally, taking cues from the minimal material palette, we produced custom furnishings which complemented the architect's vision for the space.
In a nod to Hughes, who often stayed at the The Beverly Hills Hotel, we used the hotel's famous banana leaf wallpaper pattern for custom banquette seating. We also partnered with ZGF to design furnishings with a modern twist of the era's chic style, elevating the midcentury silhouettes with metal bases and a sophisticated, mature color palette.
To meet Google's project budget and schedule, we handled design services in-house through our custom furniture and manufacturing division, Platform. Platform gave us flexibility to create the soft seating, reception desks, and bar that aligned with the team's vision. Plus, we sourced furnishings from 30+ manufacturers to outfit all the meeting, social and private spaces.
The space boasts colorful art installations, compelling floor graphics, and potted and hanging plants. In a tribute to the building's roots, aviation themed names, such as Kite and Zephyr, were given to conference rooms.
The result: An innovative concept that brings fresh perspective to workplace design while underscoring Los Angeles' burgeoning tech community.
---
Let's Get Started
Like what you see? Contact us to learn more.