Move Focused on Protecting Employees
Equinix, Inc., an American multinational corporation specializing in Internet connection and data centers, optimized their Redwood City headquarters, consolidating its dual locations into one main locale. With the lease set to expire on the auxiliary building, which housed 500 employees across two floors, Equinix rethought the adjacent, four-story main building. Embarking on an interior renovation, the new design eliminated a cubicle configuration in favor of an open plan concept in order to accommodate the influx of employees.

Due to COVID-19, Equinix took advantage of stay-at-home orders. With construction deemed an essential business, they decommissioned the aux space and accelerated the schedule of the main space. Under normal circumstances, staff is responsible for their personal property. However, with an eye on safety, Equinix prohibited employees from entering the building, and enlisted Unisource Solutions to oversee the entire relocation.

Mastering Logistics
To ensure a smooth move, the Unisource team, led by Ken MacClure, devised a simple and effective strategy — an easy-to-track identification and labeling system, divided into two phases, executed over two weeks. Working off a basic move list, each cubicle was given a unique move number which was inputted into the current floor plan drawing using PlanGrid, a collaborative construction management software app. The team transposed that number in the physical space by placing a sign at each work area. In addition to the move number, the sign also included the employee name, the type of work space, ie. cubicle, and the project phase. Furthermore, Unisource packed all product from copy centers, storage and break rooms. Everything was boxed, secured, and palletized, and then organized into groups for both storage and redeployment.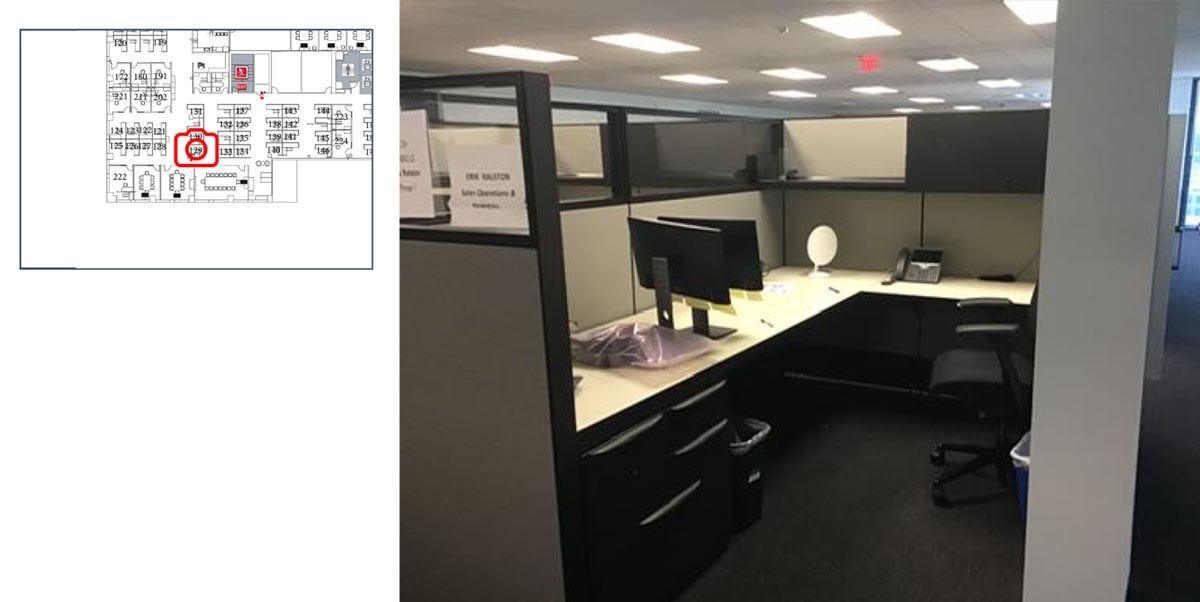 Gaining Employee Trust, White Glove Service
With employees reluctant to have strangers handle their personal items, Unisource came up with a creative solution to win their trust — photographing each space to document the specific contents and workstation set-ups. Over 1,600 photos taken! Photos were then labeled accordingly and imported into PlanGrid. Inventory was taken of each employee workstation with nearly 1,200 monitors and accessory equipment disconnected and identified. Using the utmost care, each item was individually wrapped or bagged, then boxed up, and tagged with the move number for easy tracking. In the end, more than 1,600 boxes of content was removed from the building and added to our online inventory program.
Reduce, Reuse, Recycle
With Equinix' new open plan, there was no need to keep the cubicles. As such, they chose to liquidate them. However, they decided to reuse all 659 task and conference chairs, which Unisource cleaned, repaired, and readied for the new space. Moreover, Unisource was even tasked with trash and e-waste removal. To avoid bringing junk to the landfill, the team separated waste from recyclables, deploying product for reuse where they could. In fact, we are working with Equinix to donate leftover monitors to a school in Puerto Rico. To further reduce their environmental footprint, at the suggestion of Unisource, Equinix reutilized 25 workstations for their Cupertino location, as well as repurposed 40 stations of Haworth product within other buildings. Reusing product is not only good for the landfill, but also good for the bottom line: Equinix realized $80K in savings by not having to purchase new furniture.
Move-In
When the office is move-in ready, Unisource Solutions will redeploy product using its tracking system. During the transition, the product has been catalogued and placed back into Equinix's inventory at Unisource Solutions' secure, climate-controlled warehouse. At any point, Equinix can log into their inventory portal to track or request pieces when needed.
---
Let's Get Started