Unisource Solutions Successfully Delivers a Holistic Space for Colliers
Unisource Solutions is proud to have partnered with Colliers, a leading global real estate services organization, and Wolcott Architecture, to deliver an exceptional workspace that reflects the brand's image and values. The project involved transforming Colliers' office in Woodland Hills, California into a holistic work environment that inspires creativity, collaboration, and productivity.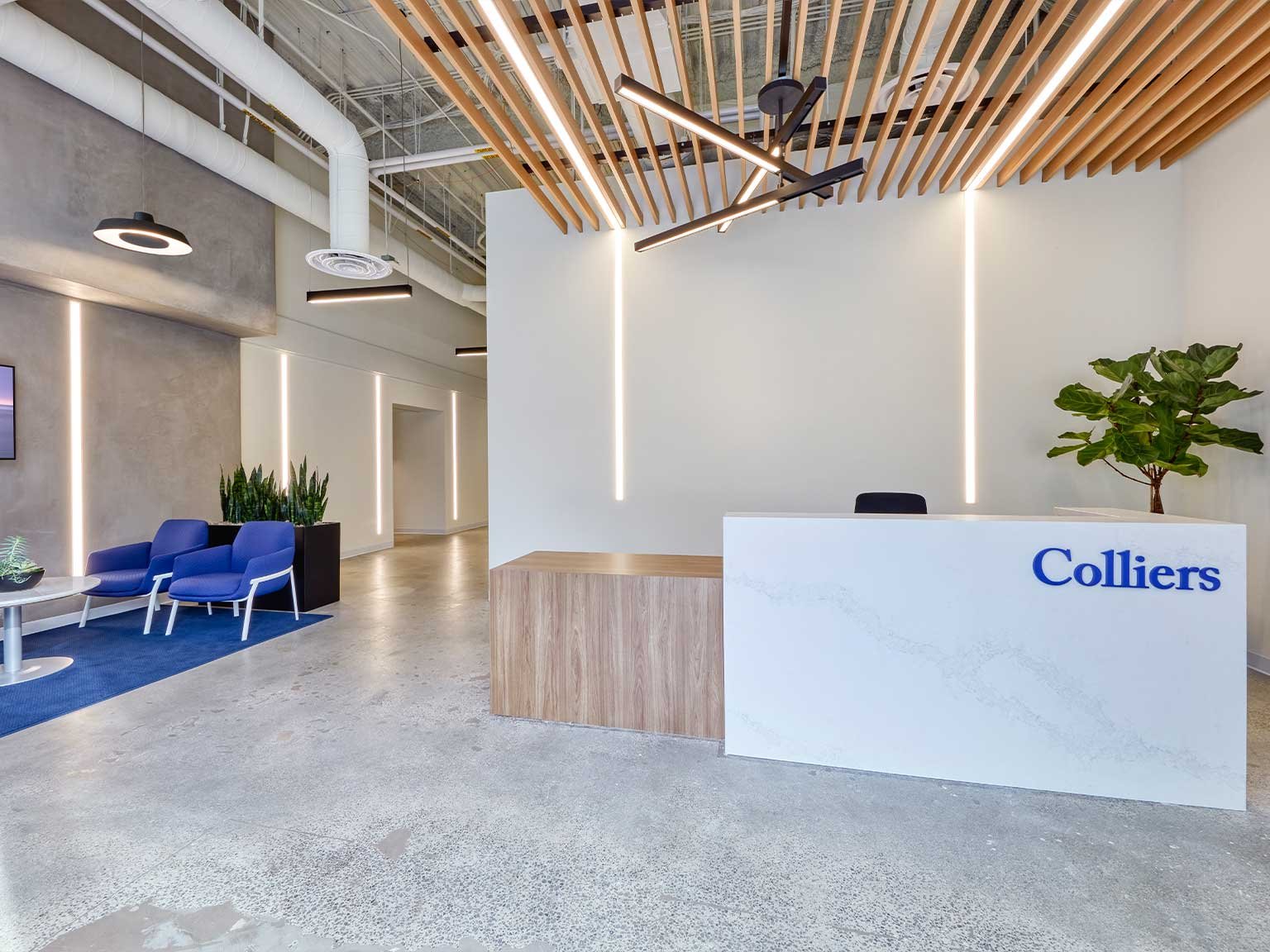 Balancing Form and Function
At the core of this project was the need to balance form and function, ensuring that every space was designed to achieve maximum efficiency and aesthetics. The Unisource Solutions team worked diligently with Colliers' representatives, taking into consideration their specific needs and business objectives. The outcome was a workspace that efficiently supports the company's work processes while providing a beautiful and inspiring environment to work in.
The workspace was created to provide a natural and comfortable feeling in the common areas and a professional, cleaner look in the work areas.
Informed by Colliers' brand colors and a contemporary sensibility, Unisource Solutions provided workplace furniture that was installed throughout the new space. This included: 24 open-area benching workstations; 9 private offices; one board room and two conference rooms, a lounge with comfortable seating for collaborative work; a break room/cafe; reception furniture for the lobby; and 134 Lineal Feet of Haworth Enclose frameless glass walls and doors.
Client Objectives
Colliers' focus was to create an office with a seamless and cohesive design that would enhance collaboration, connection, and productivity amongst their real estate professionals. They recognized the importance of having functional spaces that enabled their teams to connect and work together effectively. As a leading global real estate services company, Colliers aimed to create an inspiring work environment that would support their employees' needs and help them achieve their highest potential. The design was seen as an opportunity to showcase their commitment to excellence and innovation. With this in mind, Colliers sought to create a workspace that reflected its brand identity, values, and mission while also meeting the practical needs of its business. Ultimately, the goal was to create a space that would attract and retain top talent, drive collaboration, and facilitate productivity across their teams.

Challenges: Move Management Complexities
One of the main challenges of this project was its tight timeline and budget. The deadlines were ambitious but attainable, and the Unisource Solutions team worked hard to ensure that they could deliver a quality result within the timeframe and utilize all available resources. Additionally, as part of the move management process, Unisource coordinated with multiple stakeholders, vendors, movers, and end users to ensure that the relocation went according to plan.
Solutions: Adhering to Deadlines and Providing Open Communication
At the core of our solution for this project was a steadfast adherence to strict deadlines, with consistent communication through daily and weekly calls to ensure that all parties involved were kept up-to-date on project progress. We also recognize the importance of budgeting and value engineering up front, providing all options and pricing via a comprehensive 'menu' to choose from, that allowed for educated decision-making and quick turnaround times.
Additionally, we maintained close contact with all teams and trades for coordination to ensure a seamless move of Colliers from their current space to the new one, taking into consideration downtime, schedules, and lease terms.
By focusing on these key elements, we were able to deliver a solution that met the specific needs and requirements of the project, while delivering great value and benefits at every stage of the process.
"Working with Colliers on their new Los Angeles workspace was an incredibly exciting opportunity for us at Unisource Solutions." Said Erin Nulph, Senior Strategic Account Manager, Unisource Solutions. "We are proud of the beautiful, efficient space we helped create, and it is a great testament to the power of collaboration in achieving success. Our team worked tirelessly to ensure that every detail was taken into consideration and that the final product met all of Colliers' expectations."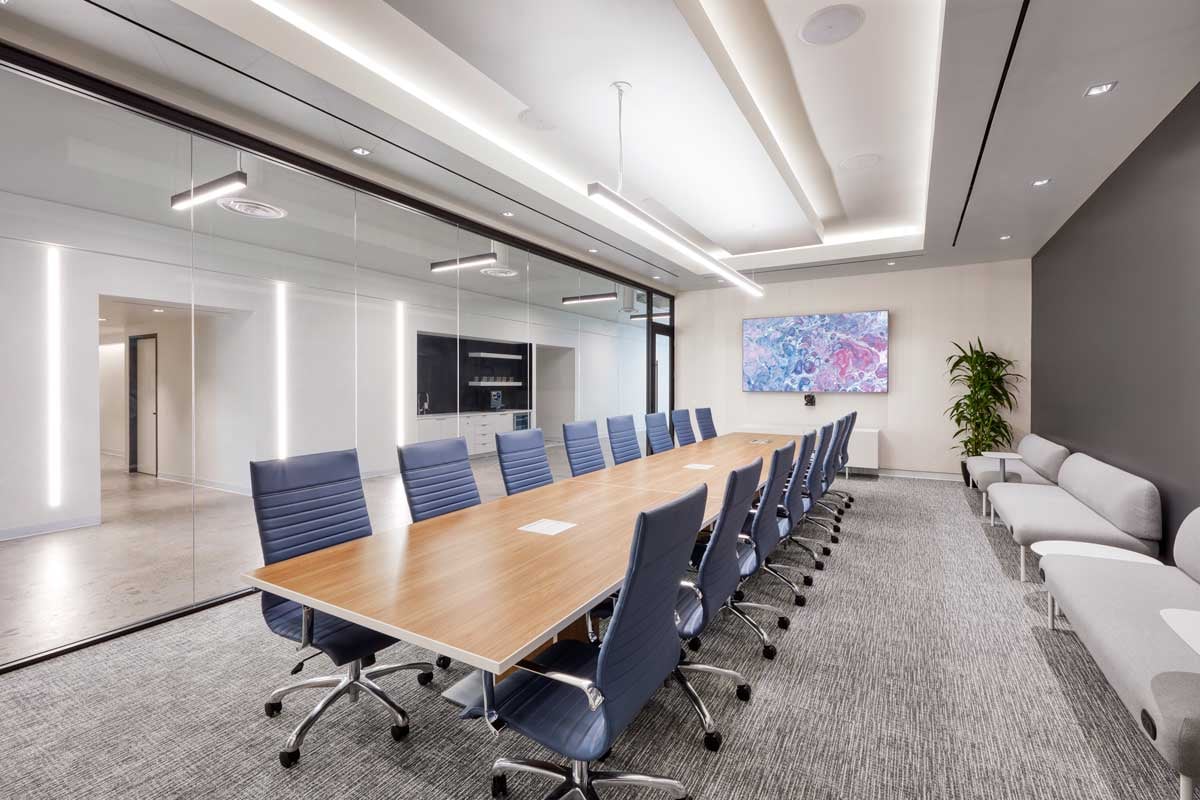 Results: Elegance and Functionality
The result is an elegant, functional office space that reflects Colliers' brand and values. With its inspiring design, open floor plan, and natural light, the new space is a great example of what can be achieved when form meets function. It provides the perfect environment for collaboration and innovation; allowing teams to interact freely and find creative solutions that will drive their success in the future.
The new workspace is a perfect example of how form can meet function and inspire success. Unisource Solutions looks forward to partnering with Colliers on future projects in order to continue creating innovative workspaces that bring out the best in people.